NiaSerum Topical Niacinamide Serum – Best Anti-Aging and Anti-Wrinkle Face Repair Serum and Moisturizer – Fast Acne and Blemish Remover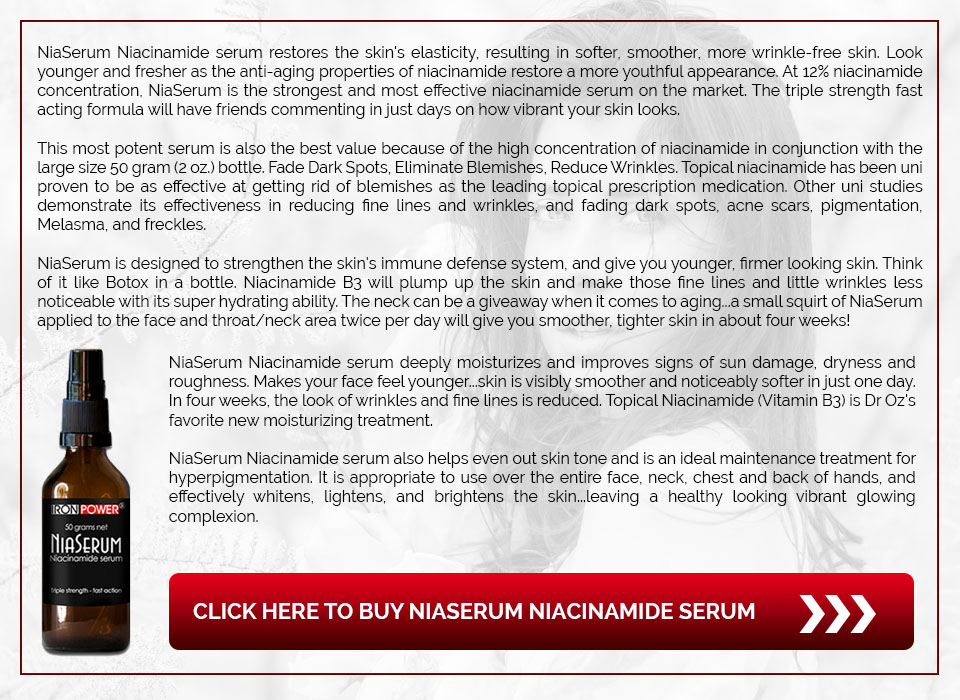 A lot of us make use of different products on our skin to get rid of the flaws. But sometimes, you just can't see the results you were expecting. We usually use skin creams or lotions to get rid of acne and blemish problems, but are they working the way you want them to?  If you want an effective and fast acting product that can help you get rid of pimples and other skin blemishes, and fade dark spots, then the product that you need is Ironpower's NiaSerum.
What makes Ironpower's NiaSerum special compared to the usual beauty creams that you can buy is the fact that it is formulated as a serum. Unlike creams which are often thick and heavy, NiaSerum is light and fluid which makes it easier to apply and work into your skin. Ironpower's NiaSerum has smaller molecules which makes it easier for the skin to absorb and reach the deepest layers of the epidermis and dermis. This makes NiaSerum work faster and more effectively than the average blemish remover skin creams in the market.
Another special thing about Ironpower's NiaSerum is its active ingredient. It uses a 12% niacinamide formulation compared to other skin creams that use a 4% formulation. This means you get triple the strength of conventional skin creams so that you can see immediate results. Niacinamide, also called as Nicotinamide is a special B vitamin that has been proven over the years to produce amazing benefits for the skin's health, protection and repair. Here are a few studies which have shown that niacianmide is effective not only for your acne, but also other common skin blemishes.
Click here see more customer reviews >>
A study titled, "Topical nicotinamide compared with clindamycin gel in treatment of inflammatory acne vulgaris" by Shalita AR, Smith JG, Parish LC, Sofman MS, Chalker DK (June 1995) was published in the Internationalional Journal of Dermatology. The results showed that 4% nicotinamide in cream as a topical treatment was just as effective as clindamycin but did not have any adverse effect. This is why nicotinamide is a recommended treatment for skin problems caused by acne vulgaris. The anti-inflammatory effect of the niacinamide in NiaSerum gets rid of pimples and soreness caused by acne in a very short amount of time.
In another study titled, "A Double-Blind, Randomized Clinical Trial of Niacinamide 4% versus Hydroquinone 4% in the Treatment of Melasma" by Navarette-Solis J, Catanedo-Cazares JP, Torres-Alvarez B et.al. (July 2011) was published in Dermatology Research and Practice. Their conclusion states that Niacinamide is a safe and effective therapeutic agent for Melasma as it can decrease skin pigmentation, inflammatory infiltrate and solar elastosis. Apart from Melasma, NiaSerum can also help you deal with other skin discoloration problems like freckles, acne scars and livers spots.
Apart from acne remover and skin whitener, Ironpower's NiaSerum also has the capability to moisturize skin with acne and minimize the appearance of fine lines and wrinkles. Add the fact that NiaSerum has virtually no side effects makes it a great choice if you want to get rid of skin blemishes fast. Try it today and see the results!